Lost Data Recovery
Lost data recovery has a very high success rate. A time consuming process as it finds things that have been genuinely deleted as well.
Why do I need data recovery
I'm yet to find anyone who has not accidentally hit the delete button only to find they have deleted the wrong files. Or a CD/DVD will no longer open or play. A hard drive or memory stick has failed and refuses to give up any of its contents.
Lost Photos and Files
Just because you can't find them doesn't mean they are lost forever. Whether it's an accidental delete or a drive failure. We can normally get them back
HELP! I've lost my password
It happens, and now you cannot log in. Windows password are easily changed or removed. Panic over
Computer will not boot
It is essential that all data is copied from the drive before any repair is carried out. Thus ensuring that you get it back to how it was before the fault occurred.
Using the right tools to get your data back
I have some of the most powerful data recovery software on the market, as used by the US Government and other top organisations for the recovery of deleted files and data. (Beware if you think you have deleted your data and personal information by formatting a drive- It's still there)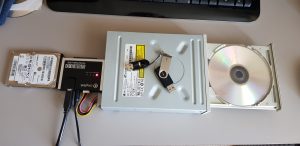 For more information on this service please give me a call.
Virus Recovery and Fraud Protection